And you thought you had too much time on your hands (or, at least, that I did)? Well, tell that to Dr. Steven Schlozman, a child psychiatrist who holds positions at Harvard Medical School and the Massachusetts General Hospital/McLean Program in Child Psychiatry.
According to CNN Health, Dr. Schlozman is the author of a new novel called The Zombie Autopsies, which takes "seriously" the possibility of a so-called Zombie Virus.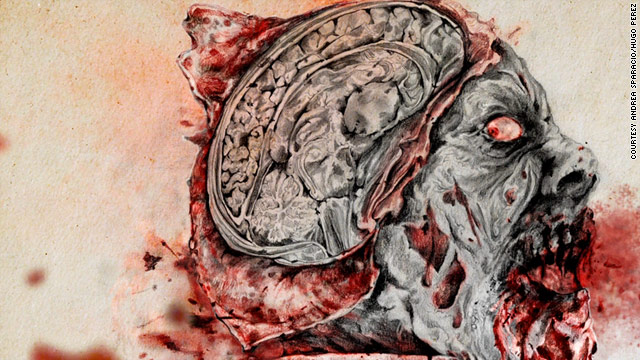 In his fascinatingly objective approach to zombie diagnostics, Schlozman postulates that
The zombie virus…basically gnaws the brain down to the amygdala, an almond-shaped structure responsible for the "fight or flight" response. The zombies always respond by fighting because another critical part of the brain, the ventromedial hypothalamus, which tells you when you've eaten enough, is broken.

The brain's frontal lobes, responsible for problem-solving, are devoured by the virus, so zombies can't make complex decisions. Impairment in the cerebellum means they can't walk well, either. Also, these humanoids have an unexplained predilection for eating human flesh.

"The zombies in this book are stumbling, shambling, hungry as hell," Schlozman said. "Basically they're like drunk crocodiles; they're not smart, they don't know who you are or what you are."
Well, I guess the good news is, if a zombie virus does hit, at least it's not likely to turn its victims into steroidal speed-freaks à la 28 Days Later or I Am Legend (although that means I should probably stock up on vinyl records and cricket bats then).